Blue Bungalow
Drive up under The Blue Bungalow and you're another one of Cedar Key's 700 full-time inhabitants—for today, for the weekend….from now on?
Boat-ready with parking, this First Street rental is comprised of the townhouse's complete first floor, accessorized with a screened porch on which to savor breakfast at sun-up or a mid-afternoon slice of Key Lime pie!
An amber stained-glass window sailboat and palm tree vignette, deserted island prints and jewel-toned butterflies greet you—and all you need for a cup of joe—as you drop the keys upon entering The Blue Bungalow. What if you lived here? You can't help but wonder. A chunky table, urging a local grouper sandwich meal or a boardgame, a large wall-mounted television, and a full kitchen-- all sized for two in flipflops-- define the living/dining room area.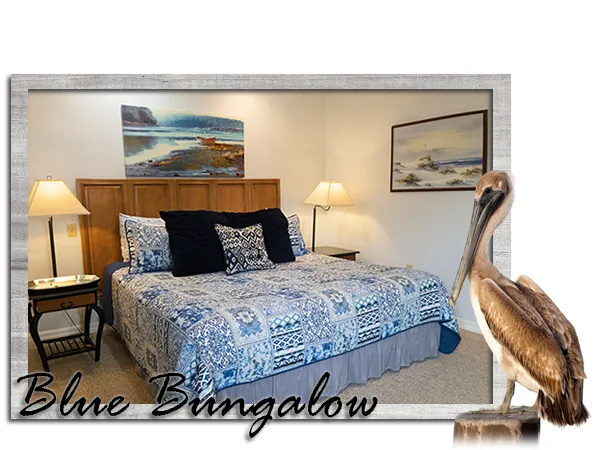 A two-minute saunter from The Blue Bungalow brings you to Dock Street with its city fishing pier and marina, charming gift shops such as Dilly Dally Gally and restaurant menus highlighting the town's famous clams! Within five minutes in the other direction, spelunkers—like you-- can walk, bike or rent and ride golf carts to the city's family-friendly beach park while hitting antique, handcraft and consignment shops as well as a sprinkling of art galleries along the way. Pop-in food markets for staples lie at the back door, too.
As Cedar Key gets sleepy and your sandy feet need soothing, step into The Blue Bungalow's steamy shower before its luscious king-sized bed with a pillow-top mattress lures you. Though in a blue nest, the bedroom is nothing less than a cocoon, draped in tobacco-hued silk with flourishes of ironwork, terracotta urn prints, russet poppies, and anchored with a checkerboard stained-glass lamp. The best night's sleep awaits you as anticipate the alarm clock buzz for a daybreak date with a native fishing guide!... Hey, that's tomorrow!...
Two person maximum occupancy.
Sunday-Thursday is $140.00/night + tax.
Friday & Saturday is $150.00/night + tax.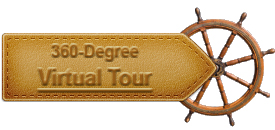 We would like to share some of the comments
that were taken from our guest books.
"Beautiful place! Exceptionally clean and well maintained. Had a great relaxing time away from city life.We will definitely be back to enjoy the quiet & peaceful serenity of the Blue Bungalow."
- Pat & Sue, Lakeland, FL
"We stayed here for our honeymoon & it was amazing. The house was perfect, weather was perfect and the city is amazing. We can't wait to come back! Thank you so much!"
- Kevin & Angela
"We were disappointed to not have an available room in the main complex on Dock Street, but much to our surprise staying in the Blue Bungalow was the "bonus plan." Complete quiet, and solitude in this cottage. The weekend was absolutely perfect. The cottage is kept in immaculate condition, and everything one needs is right here. Also, the girls at reception are cheerful and super helpful. When we return we will only want the Blue Bungalow."
- The Quigleys, St. Augustine, FL