Things To Do
There are many great shops and restaurants here in Cedar Key, as well as several outdoor activities. Please check often as we add to our list of area activities and things to do!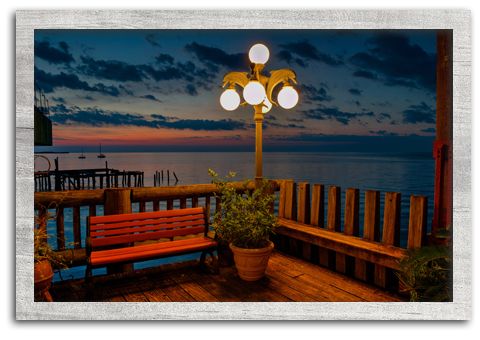 Where to eat…
Breakfast & Lunch
Grab a bite right next door at Away from the World Cafe, or venture two blocks over to 2nd street for a sausage gravy biscuit from Bake My Day or banana pudding donut from Holey Moley. Even further down SR 24 is Kona Joe's with egg & cheese omelets and Belgian waffles, or AdaBlue Cafe with their ridiculously delicious and equally affordable daily breakfast specials, served with love by Ms. Roberta.
Lunch & Dinner
Also located on Dock Street to our immediate left, is Steamers Clam Bar & Grill with their lobster mac & cheese and other endless fresh seafood options, and the newly opened Carlin's Steakhouse for fine dining and great view without the long walk. To our right, is the Big Deck Raw Bar and 83° West for a place to relax, grab a burger, and listen to various genres of live music.
On 2nd street there's the option to swing by Tony's Seafood Restaurant, a must-go with their 3x World Famous Clam Chowder or the Island Hotel Restaurant & Neptune Lounge for seafood & meat entrees in one of the most historical buildings on the island. Also on 2nd near the City Beach Park is the Island Room at Cedar Cove for crab cakes or a bowl of everyone's favorite, crab bisque. On the corner of 2nd & D streets is Cedar Key Pizza with stellar subs, calzones, and pizza, not to be confused with Island Pizzeria which is further down SR 24 with their pizza and chicken wings (and they deliver!). Annie's Cafe on the corner of SR 24 & 6th street is a local's favorite stop-in for one of the best cheeseburgers around. If you're willing to drive, Robinson's Seafood down SR 24 (on the only way in/out of town) has a great All-U-Can-Eat Seafood Special for $13.95 as well as an in-house Seafood Market for any of Capt. Robinson's fresh catches that you want to take home.
Where to shop...
In addition to Harbour Master, our sister business Dilly Dally Gally is a seaside boutique that also resides on the first floor of 390 Dock Street. Anchored by an antique English oak carved bar, it's the hub of activity both for suite reservations and shop purchases. Deemed "one-of-a-kind" by tourists and locals alike, one could lose hours browsing the eclectic assortment of carefully curated men and women's fashions, name brand fishing apparel, and other unique gifts. Mojo Sportswear, Hook & Tackle, Southern Lure, Naked Bee, and Rip-A-Lip are some of the many well-known labels available. The only other stores located on the dock are Island Trading Post which offers a wide selection of women's and beach apparel, knick-knacks and Working Cow ice cream, and Niko's Bait Shop—blink and you'll miss it— but stocked with all of your fishing and snack needs for an enjoyable time only a few steps away (literally!) on the city's fishing pier.
Shopping on 2nd street includes Cedar Keyhole Artist Co-Op with its driftwood, pottery, paint, wood, leather, and mosaic art, among other things. Also on 2nd is Island Arts with their ceramics, photography, stoneware, and paintings, and the Salty Needle Quilt Shop (located in the same building as Bake My Day) to satisfy any quilting wants or needs. Multiple shops are located on SR 24, including the Market at Cedar Key, Cedar Key Canvas, Island Thyme Antiques, and further on out approx. 7 miles-- the Cedar Key General Store and Dollar General.
What to do…
Stay cool inside! It's Florida and our summers are hot—shoot, even our winters are hot! Spend a day in the AC pampering yourself at Hair by Tina on 2nd street, where you can find yourself transformed by a fabulous cut and dye, and likely the spunkiest conversation that you'll find yourself engaging in for the length of your trip. Licensed Massage Therapist Mary Inskeep is another one of the island's secret hidden gems, word of mouth is the best way to hear about her (so we're doing you a big favor—yes, you're welcome!). Call to make an appointment and receive directions to her Rosewood office, or let her know where you're residing for the duration of your stay and she'll gladly make the trip to you. Nail tech Cris Feigin, also the co-owner of Island Pizzeria, just opened a brand spankin' new and much needed nail salon on SR 24 known as Pampered and Polished. Call ahead or walk-in, choose your color, and enjoy a manicure, pedicure, or set of acrylics—she also offers gel!
If you're on the hunt for a little Cedar Key history, take the time to wander over to investigate our two museums. Cedar Key Historical Society is located on the corner of SR 24 & 2nd street and is open Sunday thru Friday 1-4PM and Saturday 11AM thru 5PM. Inside you can find nearly anything and everything you want to learn about our fishing village, such as how and where it was started and the people to thank for it. Further back on the island resides the Cedar Key State Museum on SW 166th Court, whose hours are Thursday thru Monday 10AM-5PM. Inside offers aging exhibits crafted by University of Florida students covering our sea and wildlife habitats, former pencil factory and Native Americans.  
Spend time outdoors! Walk a trail-- Cedar Key Cemetery's boardwalk leads to a hidden playground and small fishing hole, and the Cedar Key Scrub Preserve is a peaceful place to bird watch, explore trails or have a picnic. Shell Mound, located several miles down CR 347, earned its name from early Indians who created the actual mound from shell midden and is also a great nearby location to explore and fish at. Even further down 347 is the Lower Suwannee Refuge if you're looking to take a ride through a local estuary habitat with an abundant variety of wildlife. Bring your bicycle-- Cedar Key with its slow pace and relatively quiet roads and neighborhoods is a casual bicyclist's paradise. Rent a golf cart-- Gulf Kart Company and Faraway Inn both have two and four seat golf carts available for rental on the island. Spend the day fishing on a charter or kayaking the gulf-- (the following Guide & Recreational Rentals are members of our local Chamber of Commerce): Capt. AJ Brown, Barhopper Charters, Cedar Key Boat Rentals & Island Tours, Cedar Key Marina II, Cedar Key Paddling, Down Home Adventures, Grouper Therapy, Hooked Up Charters, Island Air Tours, Kayak Cedar Keys, Lady Pirate Fishing, Saltwater Assassin, Southern Salt Charters, Tidewater Tours and Boat Rentals, Tiger Island Outfitters, Voyles Guide Service, Waccassassa Bay Fishing Charters. Another option is to swing by the Marina Hardware store on 1st street where they offer fishing rod rentals and plenty of bait for sale, and spend the day testing the waters out on your own on our local fishing pier. Visit a vineyard-- spend the day relaxing and free wine tasting at Dakota Vineyard & Winery, located in Chiefland, approx. 30 mi. N on Highway 19. Also located in Chiefland is the Manatee Springs State Park which offers a fantastic boardwalk flanking the natural spring boil, and more frequent than not, manatee sightings. Fanning Springs State Park is a little further on out of Chiefland, but is also available most days for your swimming, boating, canoeing, kayaking, camping, hiking, snorkeling, fishing, and wildlife viewing enjoyment.

We hope you take the time to explore and appreciate all that Cedar Key has to offer on your stay with us here at the Harbour Master Suites. If you have any other questions regarding what there is to do or see on your trip, please feel free to call our office at 352.543.9320 or the Cedar Key Chamber of Commerce at 352.543.5600.