Tropical Tranquility
One of the Harbour Master's most requested retreats, Tropical Tranquility treats the senses as one reclines and languishes in nature at its very best! From the faint, salty, aroma of glorious gulf breezes on the private deck overlooking gulf waters -at times the haunt of the tender manatee- to the whipping sound of an occasional sailboat seen, Tropical Tranquility is home away from home. With its hints of billowy blues and lemony yellows within and without, it forces the soul to revive once more.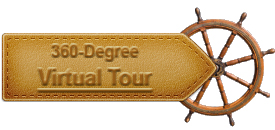 We would like to share some of the comments
that were taken from our guest books.
"As I write this thank you note, the sun is rising, glistening red over the water as the dolphins make their way across the 'front yard.' It doesn't get any better than this."
CR & K, Tampa, FL
"My new wife and I spent our honeymoon here, …literally in 'Tranquility.' This was our second time here in Cedar Key and we've decided it is a "little-known" jewel unlike any other area on the gulf side of Florida."
W & D Black, Zephyrhills, FL
"I felt like a queen staying here, the room, the view, watching dolphins, I can go on and on forever. Everything about this place is A+++. "
R. Murphy, Jasper, FL
"Wonderful view- our 4th time here. This has got to be the best place in town. See you next time. "
Steve and D.