Gulliver's Rest
As Dr. Sylvia Earle once penned, "every time I slip into the ocean, it's like going home."
As you pull back the wooden door adorned with antique stained glass, Gulliver's Rest welcomes you like you are finally home. Let the hallway lead you one direction to a jewel-toned oasis of a master bedroom, or the other direction to a fun nook with additional sleeping arrangements in the form of a twin-size bed. Past that, you'll find the suite open up into an expansive living and dining area with comfortable seating arrangements and large windows that allow for endless rays of natural light, if so desired. A private water-view balcony is located off of the living room and gives a landscape view of both Dock Street and the boats parked in the harbour across the way. Come take a Gulliver's Rest over the ocean in your newest home away from home.
Gulliver's Rest is a water-view suite located on the second floor of the Harbour Master Suites. It is the largest room and accommodates up to 3 guests. It offers a private balcony, pillow top king-size bed, twin-size bed, spacious living and dining area, full-size refrigerator, dishwasher, microwave, toaster oven, coffee maker, and one bathroom with a shower/tub combination.
Three person maximum occupancy.
Sunday-Thursday is $180.00/night + tax for 2 guests, $190/night + tax for 3 guests.
Friday & Saturday is $190.00/night + tax for 2 guests, $200.00/night + tax for 3 guests.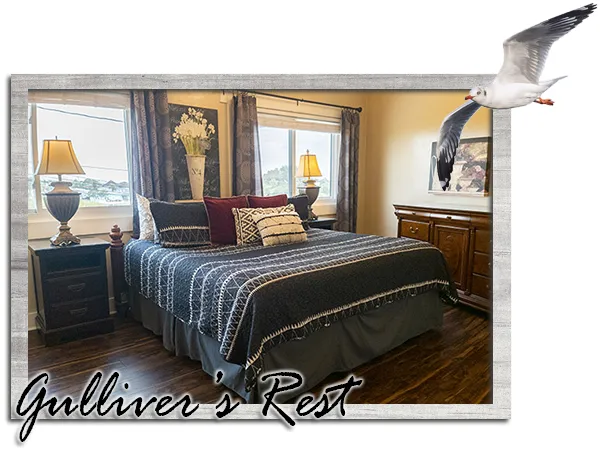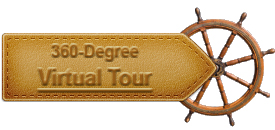 We would like to share some of the comments
that were taken from our guest books.
We have been coming to Cedar Key since 1988. Every visit has brought certain magic. Finding this suite is our magic this time! We love it here and shall return.
Mr. & Mrs. J.C. - St. Petersburg, FL
Mr. & Mrs. P.C. - Fairfax, VA
We've been here for four great weeks. Our accommodations were great and our hosts very gracious and nice. We love the town of Cedar Key and the slower pace of living. Not to mention leaving all the ice and snow back in Illinois. we plan to be back next year again for a month. Thank you for a great month.
Mr. & Mrs. A.L. - Illinois
What a fiftieth wedding anniversary - one our family will never forget! Beautiful town, relaxing setting and wonderful accommodations. Cedar Key will always hold a special place in our hearts! Thank you!
The H. Family - Clearwater, FL