Sea Pearl
"A real gem in a sea of diamonds"
Ooh-la-la.. A penthouse suite tops off this awesome complex with a spectacular 180 degree point of observation from within and without this jewel on the Gulf of Mexico. The Sea Pearl provides the ultimate, highest vantage point on Dock Street! Beyond expectations, this all-inclusive apartment offers two king master suites, complete kitchen facilities and a centrally located bath. A screened in private porch allows glorious views of Cedar Key and marina boat traffic.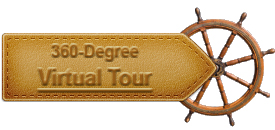 We would like to share some of the comments
that were taken from our guest books.
We have stayed many places on the Island and this is the most wonderful. We won't stay anywhere else! Wonderfully furnished and everything one could hope for. Very clean. See you again!
D.& D., Ocala, FL
What a "pearl" of an accommodation! Loved every part of it, inside and outside, from sunset to sunrise. Thank you to whoever created the personal touch and feel of the place. We felt most comfortable. Thanks and we'll be back…..
A.B. & M.H., Orlando, FL
My love and I have stayed in many 5 star resorts and have never enjoyed the home- like amenities we have enjoyed here. We will be back! Blue sky, Beautiful water
E. & T.