Lucky Catch
Once the personal, second-floor accommodation of the owners of the Cedar Key Harbour Master Suites, the Lucky Catch can be found in blue on First Street with its iconic marlin just outside. From its private, screened balcony, its two fortunate guests can view those on morning strolls and afternoon bicycle rides carried along--as if by the tide—towards the heartbeat of the tiny town comprised of its marina, beach park and Dock and Second Streets.
Inside, one blessing of this latest addition to the Cedar Key Harbour Master Suites is the living/dining area's plush suede, café au lait couch amidst a contemporary array of earth and sea hues mottled with shots of black leather and wicker, starkly-photographed boat sails, glass-topped tables and walls the color of bubbly seafoam. A standard-sized refrigerator, stove and oven are pluses after a day on the gulf.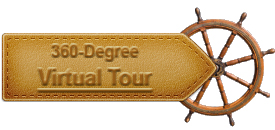 We would like to share some of the comments
that were taken from our guest books.
We celebrated our 3rd anniversary this weekend! We've never been to Cedar Key before, but we enjoyed every bit of the "laid back" atmosphere. Your house is beautiful! Love the way you decorated it! And it's within walking distance to everything! Thank you for a wonderful weekend with great memories.
Darren & Lisa, Jacksonville, FL
Couldn't have asked for better! The apartment is lovely and perfectly maintained. The location is ideal. Close enough to walk to the "main drag" in less than 5 minutes, but far enough away that you feel like you have your own space away from it all.
Amy, St. Pete, Fl
The house was wonderful - very clean, well decorated, quiet & great location. We also enjoyed staying here & touring Cedar Key.
Cindy & Jeff
Our first visit here and will most assuredly be back! Loved the atmosphere and small community. Lucky Catch lives up to its name and the coffee was great! Loved the color scheme & decor also. Very pleasant. Thank you!
Mike & Angie, Hahira, Ga