Corrigan's Reef
"For whatever we lose (like a you or a me), it's always ourselves we find in the sea." -- E.E. Cummings.
Allow your longing for island time to wash you into Corrigan's Reef. Spend your stay daydreaming of and exploring Cedar Key's history, all-the-while taking the time to sit and enjoy each sunrise and sunset view that its exclusive waterfront balcony has to offer. While recently updated with contemporary furnishings and fun pops of both coral and sparkle dusted here and there, Corrigan's decor still leaves room to flirt with the idea of time standing still, with walls boasting images of sepia sailboats and a dreamy island oasis that one would likely beg to be stranded on. Hit the pause button on your day-to-day life as you know it, and come write your own chapter of Cedar Key history inspired by your stay in Corrigan's Reef.
Corrigan's Reef is a waterfront suite located on the second floor of the Harbour Master Suites. It offers a private balcony, pillow top king-size bed, refrigerator, microwave, toaster oven, coffee maker, and a brilliantly tiled stand-alone shower.
Two person maximum occupancy.
Sunday-Thursday is $180.00/night + tax.
Friday & Saturday is $190.00/night + tax.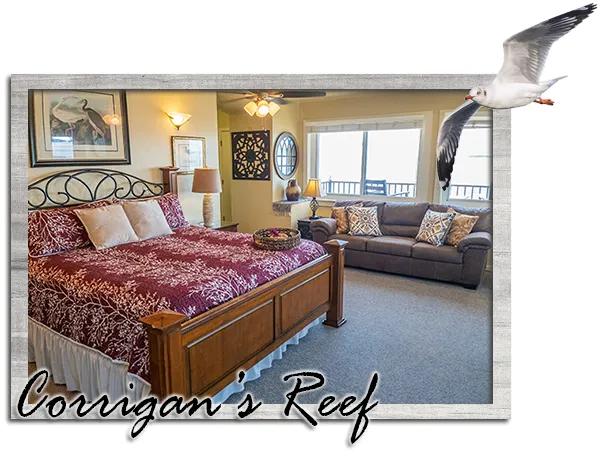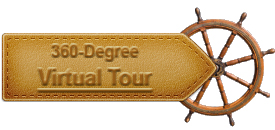 We would like to share some of the comments
that were taken from our guest books.
"When I saw the dolphins from the balcony, I immediately wanted to jump into the Gulf and swim to them. I didn't. The Gulf, after all, is their tranquility and this balcony is mine."
Mr. and Mrs. B.H., Orlando, FL
"The only place to stand on your deck and watch the sunrise and sunset- what a cozy, relaxing place to wind down. Looking forward to coming here every year. Staff was great!"
Mike and Andrea
"The room and view were beautiful! Sunrise-Sunset! Goes without saying 'God is awesome!' We'll be back!"
Jeff and Jackie, New Port Richey, FL
"We have stayed in rooms from West Quaddy Harbor, ME To Key West, FL, from the easternmost to the southernmost point in the U.S., but we have never experienced such breathtaking sunsets. I could sit on the deck all day. The scenery is never the same."
K. and L., Jacksonville, FL