Castaways
As Jacques-Yves Cousteau once wrote, "the sea, once it casts its spell, holds one in its net of wonder forever."
Take a breath and sit in wonder while enjoying the feel of Old Florida and its gulf seas from Castaways' private waterfront balcony. Its exterior view consists of a vast vision of the ocean, a sister island, and the fishing pier, while its interior view consists of calming earthy tones that help one remember why they're on vacation to begin with— to relax and unwind. The fishing pier, while distant enough to allow one privacy, still remains close enough to offer a peaceful view of locals and tourists alike reeling in their daily catches. We invite you to come spend your time as a castaway in one of the most peaceful places on earth.
Castaways is a waterfront suite located on the first floor of the Harbour Master Suites. It offers a private balcony, pillow top king-size bed, full-size refrigerator, microwave, toaster oven, coffee maker, and shower/tub combination.
Two person maximum occupancy.
Sunday-Thursday is $180.00/night + tax.
Friday & Saturday is $190.00/night + tax.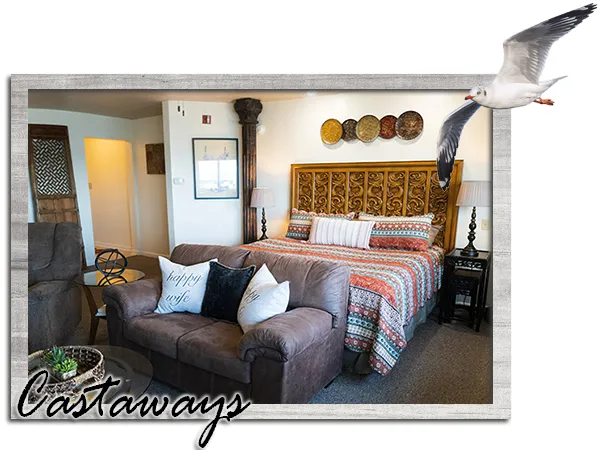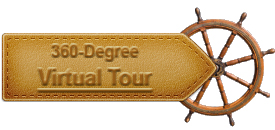 We would like to share some of the comments
that were taken from our guest books.
"Our 2nd stay in this room (Castaways), numerous in the Harbour Master, but this is our favorite- We love the deck! We've seen all sorts of birds who catch "snacks" midair, as well as dolphin and manatee. The people here are nice and we love the look and feel of an "old Florida fishing village" before there was a Walmart and McDonald's on every corner. We hope Cedar Key never changes its quaint atmosphere! We've been here many times and we keep coming back."
C & G, Summerfield, FL
Jacksonville, Florida natives away for an awesome long weekend! Loved the room Castaways….absolutely perfect. We will not wait so long to come back to visit…We relaxed and spent some time together. Thanks to Harbour Master for one of our top stays in our 34 years.
M & J, Jacksonville, FL