The Gardens
This grand and very private suite lends itself well to comfort and romance. The organic, botanical influence of this suite provides a respite for the soul and spirit. Floral, tapestries and antique rugs quietly and subtly compliment a "collector's passion" for china, roses and all things natural and lovely. The screened balcony is an ideal place to unwind at the end of your day while enjoying a perfect Cedar Key sunset.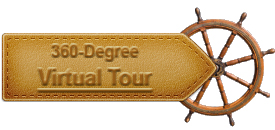 We would like to share some of the comments
that were taken from our guest books.
"...This is truly a 'Garden of Eden' and we will definitely be back."
R. and G. Wood
"Much to my wife's surprise, a romantic getaway, the room was cozy, quiet and very romantic-ready. It's amazing what you can create with the right surroundings…Awesome view."
The Tuckers, Largo, FL
"We've been traveling around Florida on a Harley the last week and a half. We've stayed in Tampa, Naples, Key West, South Beach, Holiday and Daytona Beach. This is by far our best stop! Comfortable (which is important when climbing off a Harley!), clean and beautiful. We'll be back!"
K. and P., Minneapolis, MN