Forget Me Not
"The ocean is a mighty harmonist." -- William Wordsworth.
Harmony is what one experiences as they take their first few steps into the Forget Me Not. The whites and blues of its ocean-inspired ambiance are eye-catching, but the most incredible characteristic of all is the panorama view of the ocean featured outside of the expanse of windows directly ahead. Step out onto the private waterfront porch for views of the wide open gulf, the gone-but-not-forgotten island of Atsena Otie, and depending on the morning, likely a pack of porpoises playing in the waves as the sun rises. Because of all of these harmonic attributes, among the many other calming details that have been personally handpicked for a room such as this, it is well-known that the Forget Me Not can never be forgotten. And rightfully so.
Forget Me Not is a waterfront suite located on the first floor of the Harbour Master Suites. It offers a private balcony, pillow top king-size bed, full-size refrigerator, microwave, toaster oven, coffee maker, and shower/tub combination.
Two person maximum occupancy.
Sunday-Thursday is $180.00/night + tax.
Friday & Saturday is $190.00/night + tax.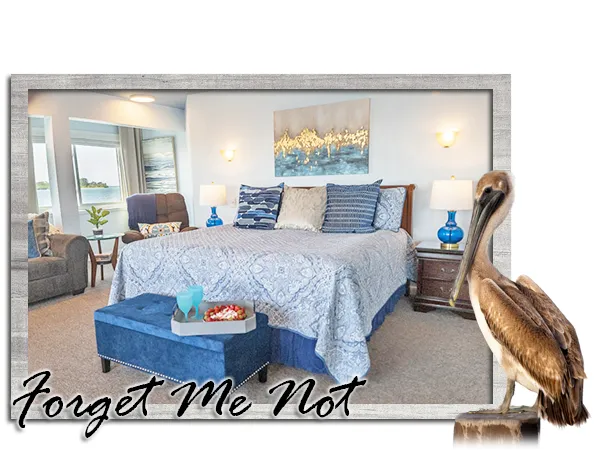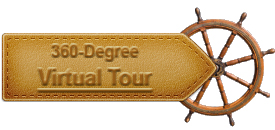 We would like to share some of the comments
that were taken from our guest books.
My husband and I flew into Miami, our plan was to pretend Florida was an island and explore the various coastal areas of the state. We stayed a few days at a resort on Sanibel Island and that was nice. However, when we walked through our door to our Forget Me Not paradise, we knew we had found the perfect place. The room was clean and beautiful and we felt so comfortable. Thank you.
T.& P., Fremont, CA
We've traveled in all 50 states and most of Canada and stayed in some very nice places. This ranks with the very best. We especially enjoyed meeting the nice people who work here.
P.& A., Potomac, MD