Sunkissed Suite
Intimate and charming, the Sunkissed is not to be excluded from the array of fabulous Harbour Master Suites. A recently-acquired, ornate, king-sized bed is the star of this cozy nest; refurbished this past spring. A grand Italian courtyard garden tapestry itself sets the stage for a tranquil eve of slumber for two. Sleeping in or slipping outside onto the breezeway to catch a daybreak vignette upon the opulent fountain flanked by blossoms or shimmering gulf are two options often taken by Sunkissed nestlings eager to postpone the "nine-to-five."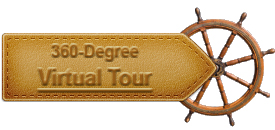 We would like to share some of the comments
that were taken from our guest books.
"We had a wonderful two-night stay. The room is lovely- the bed divine!"
M. & J., FL
"I have thoroughly enjoyed my 'vacation within a vacation' in this wonderful Sunkissed room…. The beautiful bed is as comfortable as its lovely linens. If I live closer to this special place, I would want to stay at Harbour Master on a regular schedule. Many thanks for your hospitality.
Joan- Antioch, IL
"This is our second trip to Cedar Key and our first stay @ Harbour Suites- We loved it!! This will be our choice spot for what I'm sure is just the beginning of a Cedar Key habit! Thank you for making our 'Favorite Little Vacation Spot' even more perfect! We'll tell all our friends.
K. & D. Sevierville, TN